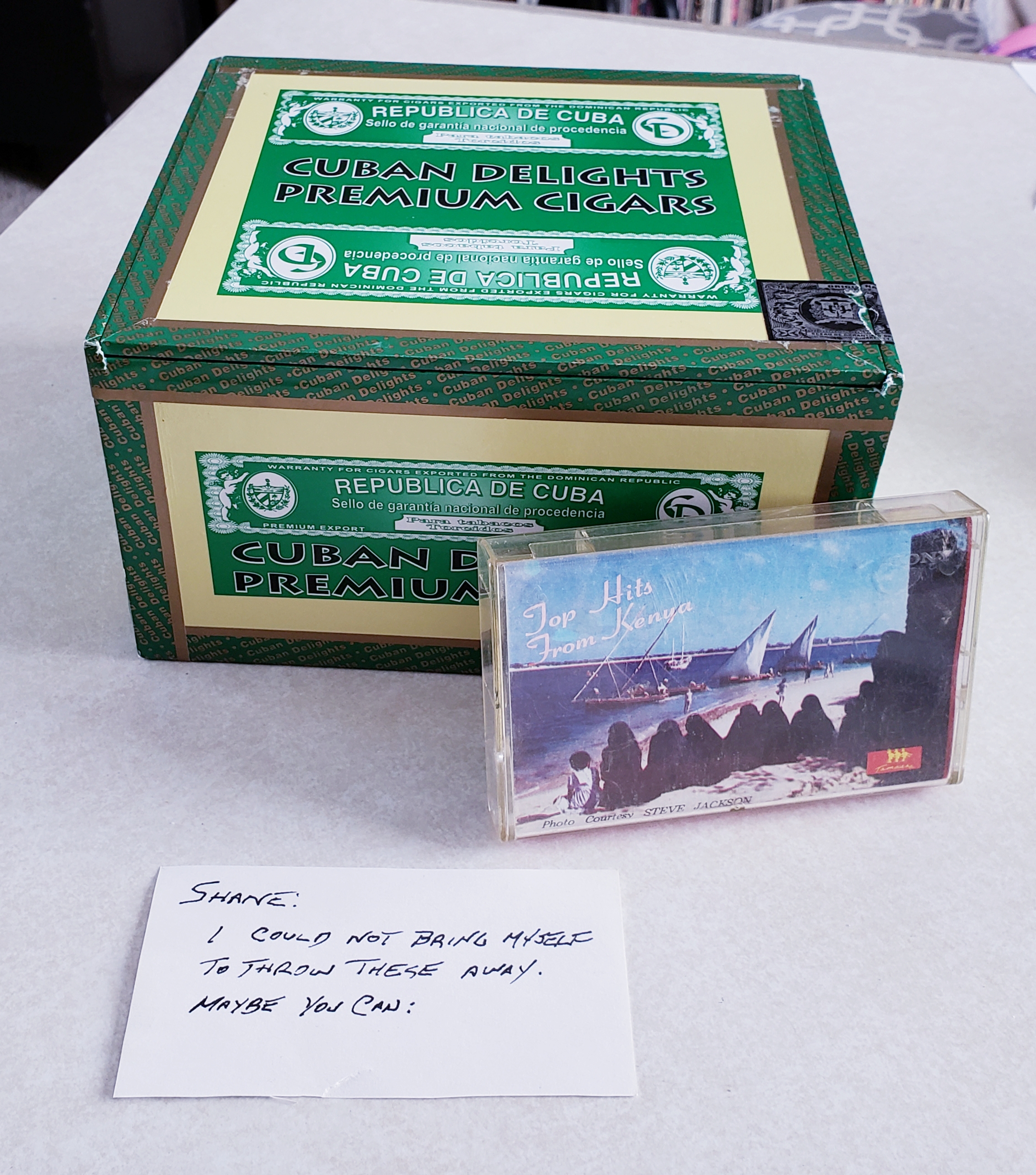 When I came home today, this was waiting for me. It's a cigar box full of cassettes from my grandpa, with a note that says, "Shane: I could not bring myself to throw these away. Maybe you can." Nope. I'm most definitely not tossing them out.
When I opened the box, my eyes quickly spotted cassettes by Willie Nelson, of whom I'm a fan. However, I then immediately zeroed in on another cassette that stood out from everything else. The title on the spine read, "Top Hits From Kenya." I knew I had to check it out, as I really like a lot of African music I've encountered over the years, especially Ladysmith Black Mambazo, Boyoyo Boys, Ali Farka Touré, etc. I opened it, took it out, read the J-card, and checked the condition. It looks near mint, which is good, because I intend on playing it and copying it to mp3 format on my Mac (to save wear on the cassette from repeated plays).
Out of curiosity, and seeking to find out what date it was released, I got on the Discogs app and looked it up using the catalog number. They don't have a date listed for it, but there was another interesting result. Based on the last 10 completed sales of this cassette, the average price it sells for is $90. It didn't necessarily surprise me, as I tend to have a feel for records, CDs, and cassettes that are worth something, even if the particular release itself is new to me. I don't plan on selling the cassette, but that little bit of info was pretty cool.
Besides, I really dig the cigar box.
(Here's a YouTube link with the songs from the cassette.)
Here's one of the songs from the cassette, which is particularly cool: