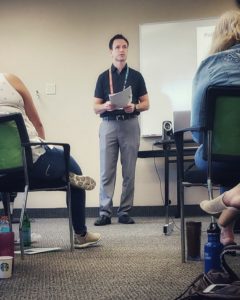 After a nearly 1.5-year hiatus, I facilitated my fourth ASIST suicide intervention workshop yesterday and today in Gilbert. I am happy to say that two dozen more people are now equipped with the potentially life-saving skills, knowledge, and confidence necessary to help someone struggling with thoughts of suicide.
The majority of this group was comprised of socialworkers, so as you can imagine, many of them have already taken a number of trainings related to behavioral health. However, on their feedback forms, multiple participants said that this was easily the best training they had ever received.
I'm also happy to note that, despite the prolonged amount of time between my most recent workshop and the prior one, I had retained all of the material. Granted, I prepared and studied thoroughly leading up to the workshop, but all of the information was still there. It was as if I had done my last workshop a week ago. I'm not even kidding. And to say that about a very content-rich, two-day, 14-hour workshop is pleasantly surprising.
As every other time, my co-trainers were amazing, including a trainer facilitating her first ASIST workshop, and Joronda, who is essentially an ASIST Jedi.
I do a number of things in my career that are both very challenging and incredibly rewarding, and ASIST is easily in the top three. The opportunity to help others reach those who are struggling, hurting, and feeling alone is amazing, and the gratitude that is typically expressed by the participants is wonderful.
(Photo of me in mid-derp courtesy of Joronda)